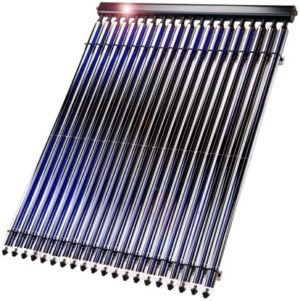 DIRECT FLOW VACUUM TUBE COLLECTOR SUN 401
The direct flow vacuum tube collector SUN 401 offers an unequalled performance.

Solar domestic hot water

20 year warranty

High durability

High thermal efficiency

SOLAR KEYMARK and CSTBat certifications
Flexibility and versatility of installation, adapting itself to the majority of the technical and architectural requirements.
Vertical (portrait) or horizontal (landscape) orientation of tubes.
Recommanded inclination from 2° to 90°.
Type of installation: flat, on tilted frame, on sloping roof, elevated, on wall.
Flat tiles, corrugated tiles, roman-tiles, slates, steel roof, asbestos cement.